Creative Photoshoot Concepts on a Budget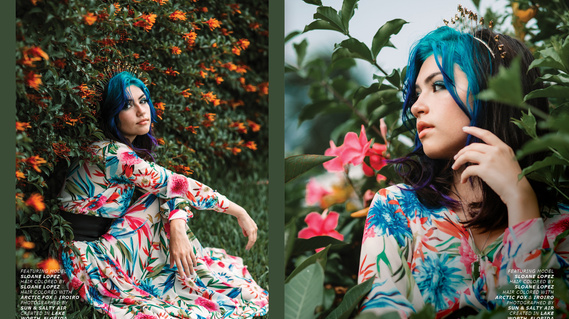 How did I style this shoot?
This is an excerpt from the feature in Dye Magazine explaining the process of dying Sloane's hair. Self-coloring her hair was a multi-day bleaching extravaganza where we removed old black hair dye. We used multiple fashion colors and dye brands to create this radiant look. Arctic Fox in Aquamarine and Purple Rain were used in addition to Iroiro 115 Emerald Green and Iroiro 70 Pink. The Arctic Fox dyes rendered a much more subtle color compared to the Iroiro, however the finished product turned out beautiful and her hair smelled delicious!
How Did I Keep the Budget Low?
I like to shop at thrift stores (always put everything immediately in the dryer on high when you get home) and often use what I already have on hand. The gorgeous dress in this shoot, had been purchased to wear to an artists showcase of mine four years ago. You'd never know I bought it on Amazon for less than $40 and that it's been used over and over for photoshoots! We made Sloane's tiny waist fit in the dress with a corset, and then we added the crown from a previous shoot for some bling. Of course a girl would feel naked without her lashes, and luckily we had Sloane's preferred brand of those on hand as well.
The video to the right show everything and all of the items used in the shoot can be found below!

After you have your concept, don't over think it!
No matter how much you plan, things can and will go wrong. Just go with it. You don't need a studio. Just get outside and create. Shooting on a cloudy day is always better for lighting your subjects because there won't be harsh shadows across a person's face. On a sunny day, stay in the shade until you learn how to use your flash. Now get out there are create something beautiful!